Église ACM de Saguenay: Opening and Dedication
Église ACM de Saguenay: Opening and Dedication
Sunday, October 22, 2017

Important: This event has already occurred.

3:00PM - 4:00PM
3848, rue du Roi-Georges, Jonquière, QC G7X 1S8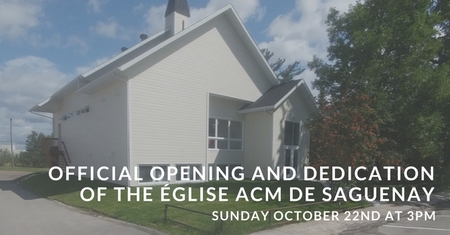 The Église ACM de Saguenay is thrilled to announce that they will be hosting a special opening and dedication service for their new church building on October 22nd at 3:00pm.
All are invited to attend and celebrate this special occasion!
District Superintendent Justin-Robert will be joining them as part of this special service among other local invites.
Please join them as you are able and pray as they celebrate a new beginning in their new building and continue their ministry.
Saguenay Église ACM du Saguenay
Return to Events
---