Jonathan Catalano knows that there's restoration in the ruins.
A third generation pastor's kid born in Italy and raised in Montreal, Jonathan is no stranger to growing up in church. "I was one of those kids who grew up in church," he says, "but never really connected with it, because I felt like the people inside were more fake and judgemental than those outside (myself being the prime example). It wasn't that I was scandalized by what people did. Rather as I witnessed the behind-the-scenes lives of my peers at church, ironically, I was encouraged to keep living my own hypocritical life." Thankfully, he acknowledges, there were always two people who were just as real inside the church as they were outside - his parents. At the age of 18, Jonathan went to Bible school in Europe and returned with a passion to create a space for people who share his experience.
Today, The Ruins is that space - a place of honesty and a place to be real - and it's reaching those who might not show up in your average Sunday gathering.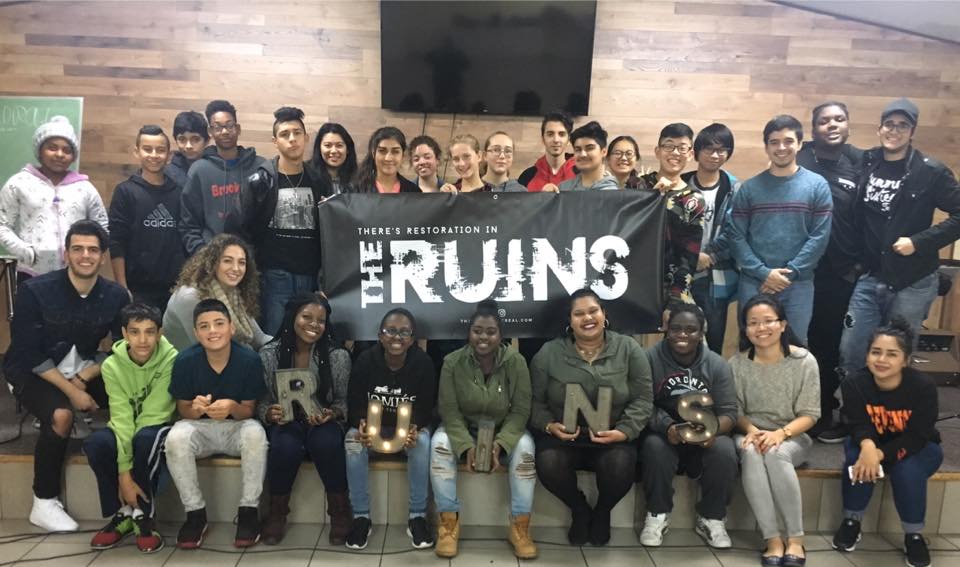 The Ruins is a growing community of over 60 young people, who average about 35 teenagers and young adults every Friday night at Fairview Alliance Church in Montreal. The name "The Ruins" suggests what this space is meant to be: a place which reminds us that God doesn't need us to be at our best. "In fact," says Jonathan, "Jesus often meets us not when everything is together in our lives, but when we're in the very ruins of a situation where we feel all is lost. In other words, when we're at our worst, it's the best time to meet Jesus."
The Ruins is reaching young people who've had no experience with church or the Bible, and Jonathan explains that this is in part because these gatherings are not about trying to give answers, saying that "What's more important is that people develop their own opinion." Jonathan's messages on Friday nights aim to open up a space where people are able to ask questions and develop their own opinions, even if they may not be theologically sound.
Because of the variety of people that show up at The Ruins, Jonathan has noticed that a special spirit of welcoming has developed.
With people coming from all walks of life and experience with church, "you develop grace and understanding as a community," he says, "and we've created a culture that firmly upholds this motto: you don't need to behave or believe in order for you to belong." He says that this space is what opens up opportunity to experience grace.
Sara* is an example of someone who has experienced this grace.
Sara had been showing up every Friday and even on Sundays for a long time, though often high and always drinking. Jonathan did his best to love and pastor her though it was frustrating that it seemed to go in one ear and out the other with her continued habits. However, after a lot of patience, one day Sara did meet with Jonathan and ask to be baptized. Jonathan has since witness a complete 180 in her life.
Based on this experience, Jonathan states, "Patience and grace might be the ultimate evangelism technique for millenials - allowing them to grow at their own pace and time. Expecting people to respond quickly to emotionally charged preaching seldom produces longevity and sustainable change. All you can really do is walk alongside young people on their journey of faith and show them who Jesus is through the life that you live day-to-day." Sara has gone on to get Proverbs 3:6 tattooed on her arm and continues to live a new and changed life - a big switch for a girl who might never have shown up in church before The Ruins.
Jonathan knows that patience is important for The Ruins.
It's been a year since The Ruins was launched and only now is he starting to see the growth and the fruit of seeds that were planted in 2016. The Ruins is very thankful for their relationship with Fairview, a church which prayed so long for young people ... who arrived in perhaps not the way that they thought.
In a province with declining religious affiliation, it is encouraging to see that God continues to draw all people to himself.
Truly, God is at work in Quebec!
---
Would you give?
To sustain an outreach ministry is expensive. The Ruins hosts a community event every 2-3 months where they specifically try to do something that reaches the community. They have hosted a Back-To-School and Christmas event, for example, and these events are key ways to reach new young people. Coming up in February, they will host a Valentine's Day Party. Each event costs roughly $400.
Would you consider donating towards an event like this and changing the life of someone like Sara?
Donation is possible by writing a cheque to Fairview Alliance Church with "The Ruins" in the memo line. Cheques can be mailed to 220 rue Hyman, Dollard-des-Ormeaux, QC, H9B 1L8.
Would you pray?
Jonathan asks for prayer for continued growth that is sustainable, and for new leaders to come in. Pray that they not become a big group or just a party, but a gathering of people who are continually encountering Jesus. Pray for creativity and that The Ruins would find creative ways for growth to happen.
What's next?
You can follow The Ruins for more updates and stories through Facebook and Instagram.
*Name has been changed to protect privacy.