Invitation to the 2017 Worker's Retreat
Invitation to the 2017 Worker's Retreat
September 19, 2017

Justin-Robert Mabiala Kenzo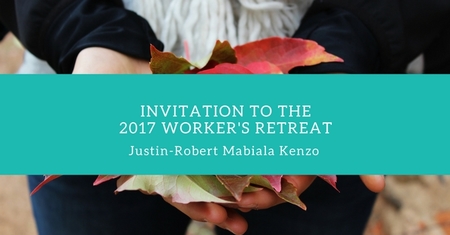 Peace in Christ!
Time has definitely flown by for me. In the last approximately forty days heading up the St. Lawrence District there has been no break. I have been immersed in the administrative functions of the District, met the members of the team, both at the District and National level, visited several churches in the Montreal area, and of course settled into our apartment. It has been a whirlwind but in all of this the Lord has held us up and blessed us.
The highlights of my time in this beautiful province, so far, have been the District Superintendents' Retreat with President David Hearn in Toronto and then in New York and also the privilege of spending time with some of you. The clear presence of the Lord in your lives has been a real blessing and source of encouragement. That is why I look forward to meeting many of you at our retreat, so that by your presence the Lord will bless even more.
This year the Workers' Retreat will be held from October 16 to 19 at the usual location, that is, the Auberge du Mont in Valcartier. Once again the C&MA President Rev. David Hearn will be with us. You can register online here or find a form to mail in to our office.
The retreat is a sacred time, set apart, where we take time to listen to God, let Him shape and revitalize us. Therefore during this retreat we will have times where we meet around the Word of God, where we pray alone or with others, where we testify of God's grace in our lives, and where we take time to enjoy fellowship with each other. Therefore I encourage each pastor and official worker to make this a priority. Don't forget that every accredited worker with the C&MA of the St. Lawrence District is expected to be there with their spouse, if possible.
For more information, please contact Allan Hack – [email protected].
Until I see all of you I pray that the Lord will bless you in all your endeavors.
---