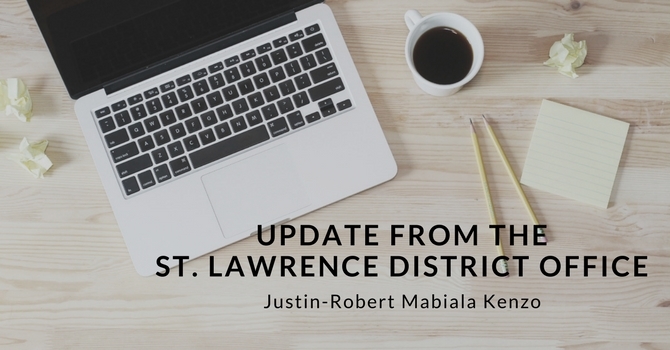 Dear co-workers in the harvest,
Peace to you in Christ!
Little by little, and by God's grace we are finding our place in this amazing work that the Lord is accomplishing in the St. Lawrence District. Last weekend was particularly special. After the first meeting of the District Executive Committee, we had the privilege of celebrating God's faithfulness with the180 Church during their first anniversary. It was beautiful to see! Without a doubt, there is something special happening there. I would encourage everyone, especially workers to check it out. You will agree with me. The Lord be praised!
Dear friends, I also want to share another blessing with you. As some of you already know, our administrative team is starting to take shape. As of the 1st of September, Troy Wiesner has joined us, full-time, as Assistant Director for the District. His presence with us is a very real joy and blessing, an answer to our prayers. Troy will gradually assume the role presently held be Allan Hack. Our desire is to see him serve as one of the main participants in accomplishing our vision for Quebec. We believe as Assistant Director he can put his passion, experience, gifts and talents in service in pastoral ministry to workers and in mobilizing and supporting new ventures. Welcome, Troy!
Besides Troy, we are also benefiting from the services of Shirley Rua, who has joined us in the role of Financial Director. This position which is presently in the form of training will later become a part-time position. Her first steps with us are very encouraging. We have no doubt that she will be with us long-term. Praise the Lord!
To complete the team we still need to find a replacement for Céline Bastien who has decided to retire – a well-deserved retirement. As you can imagine, replacing Celine will not be easy. The task is enormous and we prefer to pause before moving ahead. Our only comfort is the conviction that the Lord has the right candidate for us somewhere. In addition, this is the last week for Bethany Mortelliti, our Communications Manager. Along with her husband, Matteo, they are expecting their first baby October 10th, and so she will be going on maternity leave. Troy will be taking over the District communication responsibilities until she returns next summer.
So, continue to pray for us. With God we can do great things!
May the Lord prosper you in all that you do.
- Justin-Robert Mabiala Kenzo, District Superintendent